MSI is Bringing You the Latest GE72 and GE62 with 7th Gen. Intel® Core i7 Platform and
New GeForce® GTX 1050Ti/1050 to Reach New Heights for Smoother and Faster Performance Gaming.



New Improvements, New Heights
[Taipei, Taiwan] MSI GE series always gives plenty of gaming features for gamers to enhance their gaming experience, unlike many others notebooks that only compete in specs. With the new Intel® 7th Generation Core i7 CPU, codename Kaby Lake, gamers are expected to experience up to 15% in CPU performance boost, stronger VR gaming, 4K gaming and 4K video transcoding. Added with the latest GeForce® GTX 1050Ti/1050, gamers can expect their notebook to actually run triple A titles like never before. In CES 2017, MSI will be launching its GE72MVR, GE62MVR, GE72VR, GE62VR, GE72 and GE62 series into the market; moving forward together with Intel and nVIDIA for all users who desire better gaming experience and smoother 4K video experience in early 2017.
Introducing New Performance Graphics – GeForce® GTX 1050Ti/ 1050
Powered by Nvidia Pascal, said to be the most advanced GPU architecture ever created, delivers extraordinary speed, power efficiency, and 3D rendering than all its predecessors. Every gamer deserves an ultimate gaming machine, and now it's time to turn into a true gaming rig. It's loaded with innovative nVIDIA Game Ready technologies that let every gamer experience the latest titles in their full glory. This advanced GPU boosts performance in high-definition games and supports DirectX 12 features to deliver super-fast, smooth, power-efficient gameplay. The performance difference between generations is shown in 3Dmark11, the GeForce® GTX 1050 Ti reflects a 15% boost in performance compared to GeForce® GTX965M, and even surpassing GeForce® GTX970M with MSI GE series OC tools. The GeForce® GTX 1050 will be replacing GeForce® GTX960M for performance level gamers and power users.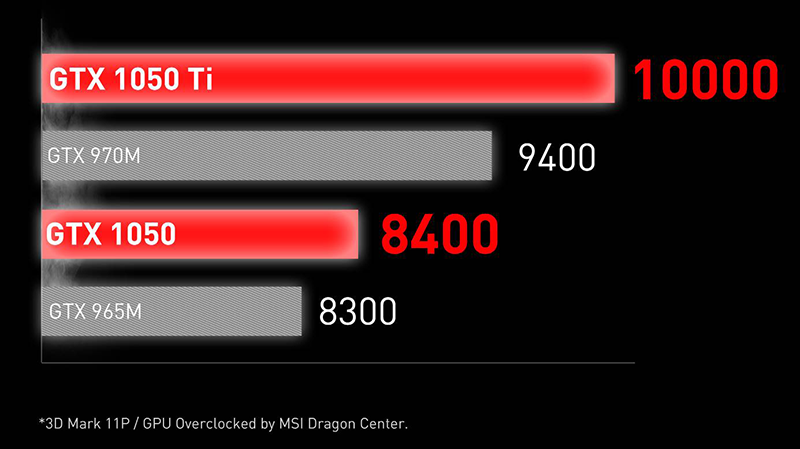 New CPU, New Improvements, New Heights
Just what improvements are we expecting from the new CPU?
-increased arithmetic processing,
-4K Video, Multimedia
-4Ktranscoding
Three of the four specified fields(arithmetic, 4K, multimedia) are practically used in everyday operation for most PC users. Increased performance translates to faster response, operate heavier workload, as well as operate multiple heavy-loading applications simultaneously. With that being said, this welcoming enhancement greatly benefits all fields; including casual, professional, and gaming applications; giving them a more snappy responses from MSI notebooks.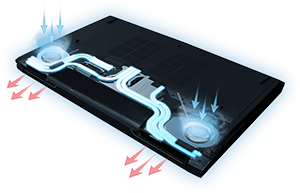 Enhanced Cooler Boost 4 Technology
If you're a gamer or a tech-savvy PC user, you'd know the one arch nemesis for all gaming notebooks, heat. What does heat do to your notebook you ask? Well for one it does much more than just creating heated discomfort on your palms, or your legs if you're resting the notebook on them; uncontrolled heat will decrease notebook's performance, and eventually damage/reduce components' longevity. Fortunately, MSI's Cooler Boost 4 is here to save the day. With twin fan design, each fan cooling the CPU and GPU respectively, will ensure your components and performance stays cool under pressure. What's more are the thick copper heat pipes for optimal thermal management. And if you're still not satisfied with the fans, don't worry; you may activate our turbo fan boost, pretty much means injecting NOS gas into the fans, increasing its RPM and blasting those heat away. Game away for hours boys and girls, the Cooler Boost 4 will keep this bad boy from your arch nemesis.
The GP series and GL series on the market together
Not only comes with rich feature GE series, MSI also launch our GP and GL series for different users, all of our GP and GL series with GeForce® GTX 1050 Ti and GeForce® GTX 1050 graphics keep the Cooler Boost 4 cooling design with dual fans and 6 heat pipes, that makes our GP and GL series got the best cooling design compared with most of same level products, also the reason why GP and GL series could get same high level performance and high stability for long tern usage as GE series.
MSI Exclusive / World's First Technologies
Performance
PCI-E GEN3 x4 SSD – SATA3 SSD Combo
With 1x M.2 interface, the latest PCI-E Gen 3.0 x4 bandwidth utilizing NVMe technology on single M.2 SSD. Harness the full performance potential of the Gen 3.0 SSD outputting extreme read speeds up to 2200MB/s,
4x faster than SATA3 SSD's. Or optional the M.2 SATA3 SSD to get over 500MB/s access speed.
Latest Architecture DDR4-2133 Memory Support
Get the best possible performance out of your notebook with support of the advanced DDR4-2133 memory, achieving over 29GB/s in reading speed and 32GB/s in writing.
With over 30% faster performance than previous generations DDR3-1600.
Control
Keyboard by SteelSeries – Gain Full Command
Better responsive and tactile feedback, optimum WASD zone and support of multi-key inputs are all for gamers to gain full command over gaming missions.
SteelSeries Engine 3 (SSE3) – Target, Position, Aim and Fire
With SSE3, you get to suit up your weapon with cool look by lightening it up with multiple backlit colors, transform your keyboard into a high technology firearm by
setting up several keys into one key command and cloud syncing all SteelSeries gears together.
One App, Total Control of Your Gaming System
Dragon Center provides six functions to get a total control of your GE series notebooks, easy access to all apps at once (App Portal), real-time system performance monitor (System Monitor),
adjust LED effect (LED Wizard), parameter adjustments in VR Ready /Fans speed / true color profiles / SHIFT in just one click, monitor and adjust system profile,
Dragon Center empowers users to facilitate tweaking process without occupying system resources.
udio
"Nahimic 2+ 3D virtual surround sound - "I see your sound"
Nahimic 2+ Audio Enhancer specializes in 3D virtual surround sound processing and audio improvement. Moreover, Nahimic eliminates background noise, thus, enhances clarity of dialogues during conversations.
The special function, Sound Tracker, introduced in Nahimic 2, permits gamers to ""see the direction of and distance from the enemy's sound".
SOUND by DYNAUDIO 2.1 CH. Speakers
True speakers designed by the world's leading speaker manufacturer Dynaudio are embedded onto MSI GE62/72 Apache Pro Series.
Dynaudio delivers an authentic sound experience by boosting power amplitude 50% more than the previous generation, meaning a volume increase over 10~15dBA.
Outstanding Headphone Audio with Golden Flash Jack
The MSI Audio Boost 2 design enhances the output sound detail and sound stage by 30% more. The golden flash audio jack provides stable sound transmission and works in conjunction with the
optimized headsets AMP design, greatly enhance headphone performance and faithfully reproduce each acoustic detail.
Visual
Buttery Smooth Motion
Besides a 5ms response time, the 17.3" 120 Hz refresh rate panel produces up to 120 individual picture frames per second.
The 94%NTSC wide color range brings more glossy red and blue colors for advanced gamers with their eagle eyes. *This feature may vary by SKU and country.
Up to 3840 X 2160 resolution
Four times higher resolution than a FHD TN LCD display, delivering images with more exquisite details

100% Adobe RGB
The 17.3" 4K display brings the image clarity to supreme level with excellent color spectrum, presenting vivid colors image depth for 100%AdobeRGB standard

Extraordinary Contrast and Brightness
Color performance of the image outputs shall be marvelous with vibrant colors, deep blacks and bright whites.
*This feature may vary by SKU and country.
True Color Technology – Always Ahead of Your Enemies
Vision and sound are the most important two factors in this field. You now get to see clearer than your enemies to always get one step ahead of the rest.
*Besides 100%sRGB Mode, True Color Technology also offers prefect color accuracy for 5 more scenarios.
Multi-task with up to 2+1 Monitors
MSI innovative Matrix Display supports up to 2 external displays simultaneously through 1x HDMI port* and 1x Mini DisplayPort 1.2. Multi-task is possible during competitive gameplays.
Matrix Display supports 4K output with a resolution up to 3840 x 2160 @60Hz. Matrix Display technology creates an ideal environment for extreme gaming experience and pleasant multimedia.
Streaming
Killer Gaming Lan – Protecting Your Ping
Killer E2500 series chipset protects networking traffic and prevents lag spikes so you can game without fear and play at your best while tracking your speeds with the easy-to-use Killer Networking Manager.
Killer Shield – Smoother Gameplay
One more protection for smoother uploads and download processes. Less pin rate floating reassures more fluent gameplays.
XSplit Gamecaster Version 2 – Become A Professional Streamer
Record your gameplays and broadcast it live to Twitch, YouTube, UStream and etc.. You may also edit gameplay videos directly on this app. It's simple,
easy to use and ideal for sharing your gameplay with friends, family or the world - or for capturing those perfect gaming moments, just for the heck of it.
MSI VR READY:
http://vr.msi.com
MSI GAMING Products:
http://gaming.msi.com
MSI Facebook:
https://www.facebook.com/MSIHQFANCLUB
MSI Twitter:
https://twitter.com/msitweets