Unversity: Escuela Politécnica de Ingeniería de Gijón, Asturias, Spain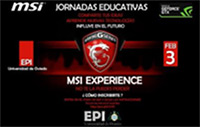 Date: Tue, 3rd of Feb, 2015
Participant: Students from Informatics engineering degree and telecommunication engineering degree, total 41 students joined and also teachers came from the University.
Objective: We organized this Campus Event to make MSI more known and also because we wanted to inform and explain to all of them our new technologies and products, also to have their feedback if they have some suggestions for our future products.
Students' feedback about our Gaming NB:
During the presentation students can touch, see and estimate quality of our new notebooks.
GT80, GE62, GS30 were very popular between end-users. They want to see and test how powerful they are.
We gave and explain better to end-users some specs and features of our products and also we showed them the catalogues of our products.
The students were very interested at we were explaining. The assistants felt very happy with the event and invited to us to make some more in future.
MSI Campus event appeared in a regional newspaper: MSI approaches engineers to the latest advances in hardware(http://www.epigijon.uniovi.es/docs/prensa/1304022015_0017.pdf ).
Timetable:
12:00-13:30. Product Presentation, Feedback session and discussion
13:30-14:00. Prizes and conclusion of the day
14:00 – 15:00h Lunch
15:00 – 17:00h Students' LOL tournament
Photos Matrix
Group photos for all students and our MSI Expert

Students pay a lot of attention and were very interested in all the new technologies and explanations.

LOL Tournament

Promotion & Exposure